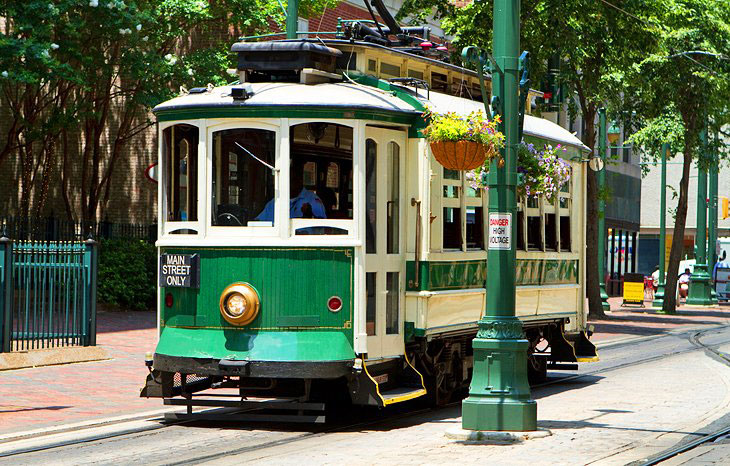 If you're planning to visit tourist destinations with historical and cultural significance to African Americans, you might be wondering which mode of transportation you should pick. We recommend Memphis bus tours for your trip. Memphis bus tours have many advantages that allow you to have a great time exploring the sights that the city has to offer. Whether you're traveling with only a few friends or in a large group, there are many factors that make Memphis bus tours a good choice for tourists.
Why Should You Choose Memphis Bus Tours?
Memphis Bus Tours Are a Comfortable Way to Travel
Exploring a new location can be an uncomfortable experience when you don't have the right transportation for your needs. If you're with a large number of people, a ride in your own car can be cramped. Meanwhile, taking the train might not give you the level of privacy you want.
Memphis bus tours are a great option that solves both problems. When you go sightseeing on Memphis bus tours, you have plenty of seating to accommodate large groups. Furthermore, Memphis bus tours give you enough storage space to keep your luggage out of the way. You also have more privacy on Memphis bus tours. With these advantages, you can enjoy a pleasant trip with your loved ones.
Memphis Bus Tours Are Better for the Environment
There are many tourist attractions in Memphis, and it's important to preserve these beautiful and historically significant landmarks for future generations to enjoy. If you want to protect the environment, consider going on Memphis bus tours instead of traveling by car.
Memphis bus tours are more fuel-efficient, which means you burn less gas and produce less pollution when you travel. By choosing Memphis bus tours, you become a more responsible tourist who takes steps to lessen their carbon footprint.
Memphis Bus Tours Are Less Stressful
There are many issues with driving your own car, such as planning your route, making sure you don't take a wrong turn, and finding parking space. When you go on Memphis bus tours, you can avoid all that hassle.
On Memphis bus tours, you're free from the responsibility of being behind the wheel and the distractions of annoying backseat drivers. Simply entrust the navigation to the driver of Memphis bus tours and enjoy the ride. It's easy, convenient, and stress-free.
Traveling Via Memphis Bus Tours Is Safer
When you go on Memphis bus tours, your safety will be prioritized. The drivers are certified and highly experienced to ensure that the passengers are safe and comfortable. They must meet strict requirements before they can get behind the wheel of Memphis bus tours.
Because driving for Memphis bus tours is their profession, they are trained to take extra precautions, such as always checking their mirrors and conducting safety inspections of their vehicles. With their heightened awareness on the road, the risk of accidents is significantly reduced. You can have peace of mind knowing that your driver is a reliable professional.
Memphis Bus Tours Let You Save Time
Studying maps and figuring out which destinations to include in your trip can be time-consuming and complicated. When you go on a bus tour, all of that is taken care of for you. Instead of wasting your precious time on inconvenient tasks, you can focus on taking in the sights with your loved ones.
Go on Unforgettable Memphis Bus Tours
If you've decided that Memphis bus tours are the perfect option for your travel needs, reach out to A Tour of Possibilities. We provide Memphis bus tours that take you on an eye-opening journey to many landmarks that commemorate the impact of African Americans to US history and culture. Visit the Ernest Withers Collection Museum & Gallery, Clayborn Temple, and other must-see locations.
For more information about our Memphis bus tours, don't hesitate to contact us. We'd be happy to answer your questions about our services.
Discover the Historical and Cultural Gems of Memphis, TN
If you're interested in learning more about African-American history, one of the best places to visit is Memphis, Tennessee. The city was at the heart of the civil rights movement and has witnessed the struggles of many African-Americans back in the 1950s and 1960s. Today, it is thriving with black-owned business and a wide range of historical sites that are perfect for curious tourists.
To make sure that you get the best experience in Memphis, enlist our help at A Tour of Possibilities. We offer highly-rated tours that reveal how much the African-Americans have contributed to the city. Our goal is to take you on an eye-opening journey that will enlighten you. We will share a perspective that you won't find from other tours.
Unique Black History Tours
Whether you book a private or group tour, we will share with you a Memphis you can feel. Our team will show you cultural gems that even long-time residents haven't discovered yet. You will find out uncomfortable and tragic parts of history, but also celebrate the resilient and inspiring future of the city.
A Tour of Possibilities received the Certificate of Excellence from TripAdvisor in 2017, 2018, and 2019 for offering tours that are entertaining, factual, and informative. Some historic sites you will see when you book any of our tours are:
LeMoyne-Owen College
Ernest Withers Collection Museum & Gallery
Elmwood Cemetery
Historic Beale Street
National Civil Rights Museum
The Pyramid
Riverfront – The Might Mississippi River
Robert Church Park
Slave Haven Underground Railroad Museum
Soulsville USA
STAX Museum of American Soul Music
Clayborn Temple
A Journey to Remember
Our tours will let you explore the African-American influence on Memphis' business, music, sports, politics, education, and religion. We have several options depending on your preference and needs:
Memphis Caravan Tour
Do you want to experience our tour of Memphis without having contact with people you don't know? Our caravan tour is the perfect choice. You can still enjoy the city and learn new things in the safety of your own car while following our van. Guests will receive a link on their mobile phones where they will hear the tour through their vehicle's speakers.
This option is suitable for residents, families, and visitors who are looking for activities that are insightful, fun, and safe. The duration of the tour is approximately two and a half hours and costs $66 per person.
Private Tour
If you're someone who wants a more exclusive experience or a private journey, we also have you covered! Choosing our private tour will be like hiring a personal tour guide. Seeing and learning about key African-American cultural sites will feel a lot more customized and intimate. We can accommodate solo trips and groups of up to 10 guests.
Whether you're travelling alone or with friends and family, you'll surely enjoy the experience. Tours are offered daily and based on availability. They usually last for two and a half up to six and a half hours.
Virtual Excursion
A tour of possibilities provides a virtual excursion where you can visit sites in a live presentation with photographs and narration. Participants can attend this from the safety of their school, church, or office. At the end of the online tour, we will have a question and answer session to test your understanding of incredibly important aspects of Memphis.
All you will need for this tour is a broad band connection and your own smart device. The virtual excursion will take approximately one hour, including the time for Q and A.
Contact Us to Discover Your Tour Options
If you're considering visiting Memphis to better understand its rich and deep culture, A Tour of Possibilities will be your partner. We offer tours that are both fun and eye-opening at the same time. You will find unique sightseeing opportunities that will provide you with more insights on African-American history. Call us at 901-326-3736.