This tour is for you if…
You are looking for a tour created to share the historical and cultural gems that African
Americans have contributed to Memphis, TN.
Our goal is to take visitors and residents alike on an eye-opening journey that
enlightens and entertains. We will explore the African American influence on local
business, music, sports, politics, education and religion.
We are skilled at sharing the meaning behind details that would otherwise go
unnoticed.
Want a private tour just for you?
Traveling with friends/family? We can accommodate 1-10 guests.
If you have about 2 hours and are looking for that is absolutely informative and fun!
Then this tour is for YOU!

Areas of interest found only in Memphis:
Slave Haven – Underground Railroad Museum
Historic Mason Temple – where Dr. Matin Luther King, Jr. delivered his famous last
speech, "I've Been To The Mountaintop."
The National Civil Rights Museum/Lorraine Motel – Site of the assassination of Dr.
Martin Luther King Jr.
Beale Street – Once known as the "Negro Main Street USA"
Stax – one of a few museums in the world dedicated to Soul Music
There is so much more to Memphis than Downtown, and we are excited to show you
more of it!
We will visit other neighborhoods such as:
Uptown
Pinch District
South Memphis
Soulsville U.S.A.
The Edge
Think it's over? There is more!
Last and most certainly not least, your visit would not be complete without giving you
the opportunity to see additional historic landmarks like:
First Baptist Beale Street Church
Robert Church Park
The Mighty Mississippi River/Riverfront
The Pyramid/Bass Pro Shops
St. Jude Children's Research Hospital
LeMoyne Owen: Memphis' historically black college
Auction Square
Cotton Row
Dr. Martin Luther King Reflection Park
I Am A Man Plaza
And so much more!
Duration

In 2 hours, we will cover sites listed above. If your schedule permits, we can customize
your experience by adding a stop for lunch or visits to museums. The length of tour is
up to you.
Transportation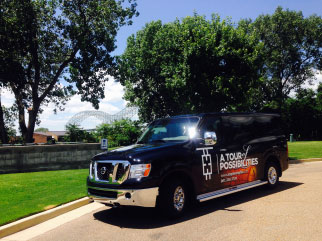 10 passenger van
Pricing & Availability
Private tours are $150 per hour with a 2 hour minimum. Tours are offered DAILY and
are based on availability. Please contact us directly @ 901-219-4869 or
atopmemphiscmb@gmail.com to confirm availability.
Included
Guide and transportation. Not included are fees for admission into various sites or cost
for food if requested.
A Tour of Possibilities is the recipient of the TripAdvisor 2017 and 2018 Certificate of
Excellence and has been rated #2 of 31 tours in Memphis.